NEW TOOL BUILDS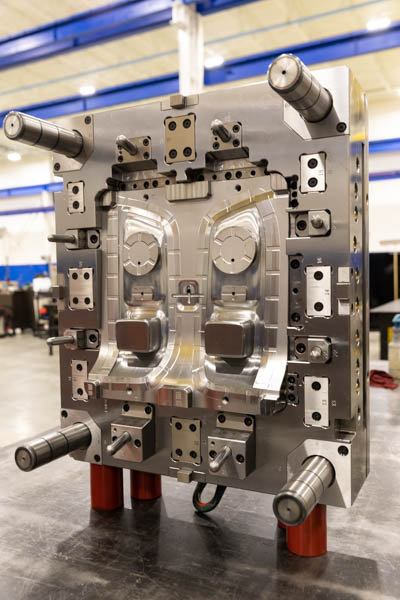 United Tool and Mold provides design and management support services for new tool builds. UTM uses many sources, domestic and global, to meet the delivery requirements for your next tooling project.
When you buy a tool from us, you're not purchasing a mold – you're purchasing a plastic part. You're buying our service. We are involved from the cradle to the grave. From design to build, sampling to part validation, from production to end of tool life, we at UTM stand behind the quality of our service – and it shows in the quality of our tooling.
However, that's not all. Our lead times are shorter than industry averages – such as 30-day builds with guaranteed timing.
Direct Build vs. UTM Managed
A few things to consider in deciding whether to build your tool directly or go through United Tool and Mold:
UTM will handle engineering support, from kickoff through sampling. This ensures that you receive a quality design, feedback throughout the tool build process, and a superior quality tool. With direct sourcing, on the other hand, the burden of design and development, tracking the tool build, and assuring the sampling process is followed all falls on your engineering staff.
UTM's project management efficiencies allow for on-site visits during the tool build process to ensure your project stays on schedule. These visits are completed, both domestic and globally, by UTM project managers. It's their job to make certain your deadlines are met. Without this support, you could spend thousands of dollars on travel expenses to keep your projects on track.
We warrant all the tooling that we build. When you purchase a tool from UTM, you're buying the service and satisfaction that we will stand behind every tool we deliver. And you're buying our responsiveness if troubleshooting is ever required. Without this, you could be stuck trying to locate a mold shop to handle your emergencies, paying for that service, and negotiating warranty issues back with your direct-buy shop.
UTM Managed Tooling Support
Be supported during the design stage.With our experience in both new tool builds and in-production services (e.g., repairs and engineering changes), we can provide solutions in design concepts to alleviate issues that we've encountered through numerous dealings with appliance tools.
Be supported in the tool build phase. Whether the tooling is directed to be built globally or in the U.S., UTM project managers will follow the tool build process and provide tracking details through on-site visits and correspondence with the tool shop. UTM has project management on the ground in China to lead the tool shop and provide feedback on all globally sourced tooling.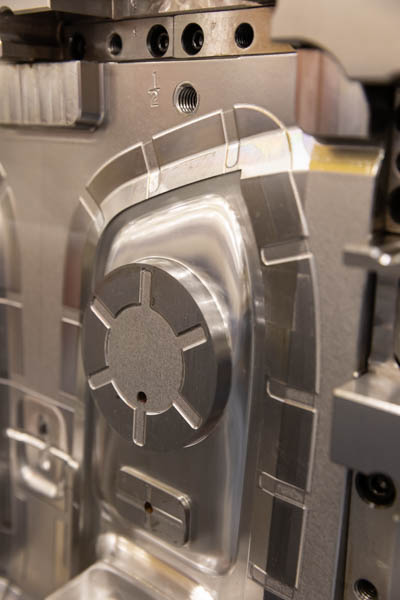 Be supported through validation. Again, our intention is not to sell you a tool. We want to sell you a plastic part. However, to achieve a quality part, quality must be demonstrated in all phases. UTM finalizes that quality through the tooling validation phase. UTM will bring the tool in-house to verify that the tool has met your specification standards and is production-ready before delivery. UTM project managers oversee the tool sampling to provide feedback, gather customer comments and concerns, address those concerns with UTM, and ensure that adjustments are made as needed. We don't simply drop off the tool and wait for your phone call. We will service the tool build until you are in production.
Be supported through the warranty phase. Following the validation of the tool, UTM will warrant the tool up to 250,000 shots or one year, whichever comes first. During this warranty phase, UTM requires that the tooling undergo predetermined preventive maintenance schedules to evaluate it for wear issues. We intend to build a tool that will help increase the value of your investment. Merely building a tool to your specifications isn't enough for us. Ensuring that you have a production-fit tool that will continue to produce parts well beyond the warranty period is our goal.
Be supported with repair and engineering services.UTM will provide service and assistance with repairs and engineering changes for as long as you'll allow us to. We built the tool; we know the tool. In the event you'd prefer to send your mold to another shop, upon final payment, we'll ensure that all the latest tool drawings and information are available.
UTM USA Sourced vs. UTM Global Sourced
Independent of where the tool is built, we'll build it. Which means we'll stand behind the quality and craftsmanship of the tool. We offer both USA-source and global-sourced options to our customers so they can base their decisions on pricing and lead times. All tooling managed by UTM is built with the same internal systems and procedures. We do not have separate quality or craftsmanship standards for tools manufactured in the U.S. and internationally.
Because finances are such a pressing concern for every business owner, here are some considerations to keep in mind when deciding between UTM USA builds and UTM Global builds:
In addition to lead time, consider shipping costs when sourcing the tool. For instance, you may realize initial cost savings from building a tool overseas, but timing considerations could result in the need for air freighting of the tool back to the U.S. This can come at a considerable cost.
Travel expenses can be a hidden cost that many do not plan for. If you intend to witness the tool sampling, keep in mind the added expense of international airfare, as opposed to visiting a U.S. location.
At United Tool and Mold, we've built tools directly for OEM's, Tier 1 suppliers, and custom molders. And we've serviced tooling from a multitude of shops. We've witnessed both the success stories and the horror stories of taking the bottom-line approach.
We believe we offer the best tool build services available anywhere. Let us prove it to you.